Official ODIN server is Online!
If you have any issues, reports send us message on FB:
https://www.facebook.com/ProjectKOMYKO2/
Rank 1

Posts: 4
Joined: Mon Dec 09, 2019 2:58 pm
Contact:
---
Admin

Posts: 103
Joined: Tue Dec 19, 2017 12:11 pm
Location: Poland
Contact:
Hello, thanks for share!
Skype: adam5323
Instagram: @adamsiankowski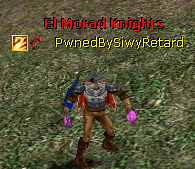 ---
That 2 party vs 1 tho , But in your behalf HardCore clan are so easy to beat anyway even with tomjerry as your main priest .
---
$

Posts: 25
Joined: Fri Jun 01, 2018 4:51 pm
Contact:
On the video, you were dying.
You had a mage in you party to teleport the dead bodies back to the fight which is huge advantage.
And you still lost
---
Rank 1

Posts: 4
Joined: Mon Dec 09, 2019 2:58 pm
Contact:
royalflush

wrote:

↑

Mon Dec 30, 2019 7:49 am

On the video, you were dying.

You had a mage in you party to teleport the dead bodies back to the fight which is huge advantage.

And you still lost
you are playing mage now , İf u wanna 8 v 8 again we are ready in tonight
---
---
Users browsing this forum: No registered users and 2 guests